Last September ReFreeDrive partners University of L'Aquila and Motor Design Ltd participated in ECCE'2019 conference (IEEE Energy Conversion Congress & Expo), which was held in Baltimore (MD, USA). As part of their contribution to the conference, two papers were submitted, which deal with the design of rare earth-free high-speed synchronous reluctance motors and induction motors for electric vehicle applications. The mechanical, thermal and electromagnetic performance of the motors was optimized for high power applications (200kW).
As usual, you can download and read the papers either by visiting the Downloads section, or by following the links below:
A copper rotor induction motor solution for electrical vehicles traction system – Download
Synchronous reluctance motors with asymmetric rotor shapes and epoxy resin for electric vehicles – Download


Equivalent stresses (in MPa) inside the electrical steel (left) and the epoxy resin (right) of the synchronous reluctance motor @ 16000 rpm.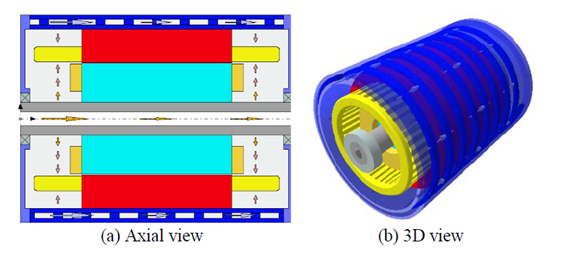 Example of one of the cooling system configurations analyzed for the induction machine.